But it makes you feel like you're not talking to yourself!
Tara over at True, Pure, Lovely emailed me a few days ago to let me know that she had passed on the Liebster Award to me. What is it, you ask?
The Liebster Award is given to recognize and spread the word about blogs with under 200 followers. I think it's a fun way to expose people to blogs that don't necessarily have as high a profile as some of the others out there. I'm a sucker for finding new sources of inspiration as the # of blogs in my reader can attest. :)
Tara has some interesting happenings on her blog for 2012. She's doing a: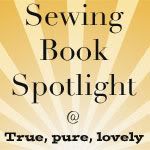 Every month she'll be highlighting a new book. February is Girl's World by Jennifer Paganelli and there's also a giveaway so go check it out.
The rules of the Liebster Award are:
*choose five up and coming blogs with less than 200 followers
*mention them on your blog
*let them know
by sending them a message that
Pretty Simple! Most of the blogs I follow are smaller. I like to think that they are a lot like me...busy moms who like to create and have a blog in order to have a record of those creations plus interact with other like minded people. On to my nominees (Drum Roll, Please!)...
Uta at little el: I'm quite impressed with Uta's Me-Made and Self-Stitched posts as sewing for myself isn't something I've done much of. She also sews clothes for her children. I love this pair of jeans that she sewed. The reverse applique flower is adorable! Uta is getting ready to do a Fabric Embellishment-along soon which sounds like a lot of fun.
Nicole at Five & Counting: If you've seen Nicole's work, it speaks for itself. She has the most amazing eye for detail. She generously shares how she sews together patterns so you can get the same wonderful results. Lately, Nicole's been showing how she constructs the Clever Charlotte Chickadee blouse.
Sandra at Sugar Cubes & Spice Cakes: Another lady with a great sense of style. She has a knack for putting the right pieces together to create outfits that are pleasing to the eye. And she recently slipcovered her couch!!
I wish I had the time to give a little shout out to every blog I read. There truly are some hidden gems out there. But due to being without our computer for the past several days while it was being repaired (using my iPhone just isn't the same!), I have a ton of catch up emails and such that are part of my regular life to deal with. Plus I have some sewing to get to!