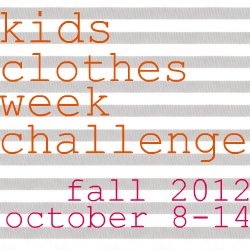 If you haven't heard about KCWC, the details are HERE. Basically, you commit to sew clothes for your kid(s) for an hour a day during the week. There's also a flickr group where you can share your progress and completed clothing.
My list (which I reserve the right to change at any time!heh) is as follows:
Sketchbook pants for P with a zip fly. I'm planning to take pictures of the process and share on my blog.

Cargo skinny jeans for K

PJ pants for P

Tops for K
K asked for the cargo skinny jeans but the more I think about it, I might put those off to another time. She has a few pairs of jeans that fit already. She does need some new knit tops. And K really needs some clothes to wear to church for fall and winter. I'm thinking skirts and tops to mix and match but I'm finding that the older she gets, the more I need to thoroughly consult with her before I start sewing.
That's my plan! Now, what are you planning on sewing?;)